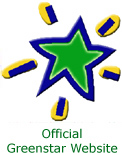 Privacy Statement
for www.greenstar.org
and www.e-greenstar.com
---
Greenstar has created this privacy statement in order to demonstrate our firm commitment to privacy. The following discloses our information gathering and dissemination practices for two linked websites, www.greenstar.org and www.e-greenstar.com. These sites are operated by two separate but co-operating organizations: Greenstar Development Foundation and Greenstar Development World-Wide, Inc.., respectively.
Your IP address may be used to gather broad geographic information. No personal information on you or your computer is gathered, stored or used in any way, unless you enter that information yourself for a specific purpose and give permission.
Our site's email subscription invitation invited users to give us contact information (like their name and email address). We use customer contact information from the registration form to send the user information about our company. The customer's contact information is also used to contact the visitor when necessary. Users may opt-out of receiving future mailings; see the choice/opt-out section below.
This site contains links to other sites. Greenstar is not responsible for the privacy practices or the content of such Web sites.
Our site uses an externally-operated map and search facility, both provided by FreeFind. We also use an external forms application, provided by Formsite, and an email processing system provided by Postmaster General. These companies follow responsible security practices for information they collect, and do not share or allow access by anyone to Greenstar's data on their systems.
---
Security
This site has security measures in place to protect the loss, misuse and alteration of the information under our control. Customer information files are kept on a single secure computer which is not connected to a local or wide-area server; backups are stored in a safety deposit box. Access to email files is password-controlled; the password is known to three people, all directly responsible to and working with Greenstar.
---
Children's Guidelines
Greenstar does NOT:
collect online contact information without prior parental consent or parental notification, which will include an opportunity for the parent to prevent use of the information and participation in the activity. Without prior parental consent, online information will only be used to respond directly to the child's request and will not be used for other purposes without prior parental consent
collect personally identifiable offline contact information without prior parental consent
distribute to third parties any personally identifiable information without prior parental consent
give the ability to publicly post or otherwise distribute personally identifiable contact information without prior parental consent
entice by the prospect of a special game, prize or other activity, to divulge more information than is needed to participate in the activity

---
Choice/Opt-Out
Our site provides users the opportunity to opt-out of receiving communications from us at the point where we request information about the visitor.
This site gives users the following options for removing their information from our database to not receive future communications or to no longer receive our service.
To opt out, you can send a blank email to greenstar@remove.postmastergeneral.com
Correct/Update
This site gives users the following options for changing and modifying information previously provided.
To make corrections, please go to http://www.greenstar.org/subscribe.htm and follow the instructions there.
---
Contacting this Web Site
If you have any questions about this privacy statement, the practices of this site, or your dealings with this Web site, you can contact
Michael North
Greenstar Foundation
5042 Wilshire Blvd., Ste. 575
Los Angeles, CA 90036
USA
mjnorth@greenstar.org