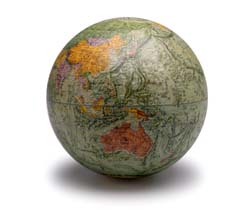 ---
Greenstar People
Greenstar's central mission is to use advanced technology to further the goals of peace and economic independence in the developing world.
Greenstar is actually two separate organizations: a non-profit foundation and a private business. Both are committed to the same goals: bringing solar power, digital culture, telemedicine, distance learning, electronic commerce, manufacturing and agricultural support services to developing countries, and to all places where a centralized electrical power grid and a connection to the Internet are not available.
The Foundation licenses the Greenstar name and technologies to the Corporation for commercial use. The Foundation conducts charitable work in the fields of health, education, energy and the environment, where capital investment is not appropriate. The Corporation makes business investments in the same fields, creating products based on digital culture (music, artwork, video, photography, poetry and storytelling) in developing countries and creating markets for them. The income generated benefits the people who own and create the products, and provides a return to Greenstar shareholders. A royalty on all revenues is paid by the Corporation back to the Foundation.
Board of Directors, Greenstar Corporation:
Board of Directors, Greenstar Foundation
Together, these Board members bring wide experience in policy and innovation, renewable energy installations worldwide, and in technology and business, to management of Greenstar's affairs.
Executive Staff:
Greenstar Ambassadors
In addition, Greenstar has established a global group of Founding Ambassadors. The Founding Ambassadors (in approximate order in which they were appointed) include:

Where appropriate, the Foundation licenses its assets to the Greenstar Corporation, which manages commercialization of Greenstar technologies.

Afilliate Organizations of Greenstar
Universities, Government, Medical Facilities
National Renewable Energy Lab (NREL)
The Medical Center of Boston, International
Private businesses
A-S-E Americas
Unisong
The Dutko Group
Capital Missions
Capital Fortunes, Inc.

Non-Government Organizations (NGOs)
United Nations Development Programme
World Resources Institute
Global Health Initiatives: demonstration telemedicine database
Windom Health Enterprises: provision of personal health information system content
International Healthy Cities Foundation: provision of healthy communities material
Premium Partners
These organizations have missions that intersect with Greenstar's in various ways. Premium Partners help to inform their members about Greenstar, and receive free promotion on Greenstar's websites, as well as a percentage of income generated from sales of digital culture products to their members.
Click here for a list of current Premium Partners, which includes Earth Day, Sierra Club (British Columbia), CorCom, The Banyan Effect, Bytes for All, Legacy International, SustainableBusiness.com, and Jade Mountain.

---